PARIS
'STYLE, SHOOT & tell storIES LIKE A PRO'
THE ULTIMATE 4-DAY FOOD-STYLING, PHOTOGRAPHY & STORYTELLING WORKSHOP
SEPTEMBER 22ND-25TH 2018
SOLD OUT!
I truly couldn't be more excited to announce this upcoming fall workshop in the one city in the world I cherish more than any other: PARIS. Since I was a young woman (actually still in my teens!) and had the chance to live in Paris long enough to call it my home, I've had a deep-rooted love for the city - the 6th arrondissement in particular. I have visited Paris 3-4 times a year ever since - alone, with my three sons, with friends and family - and each time I feel like I am coming home. This is why I am beyond excited to announce, that I will be back in September to run an inspiration-packed 4-day workshop in Paris loaded with all my proven secret tips and tricks, that led me to win six International awards for my cookbooks - styled, photographed and written by myself. In 'STYLE, SHOOT & TELL STORIES LIKE A PRO', you will learn how to craft a food - and lifestyle story through images that are compelling, radiant, and unique. Whether you want to explore a new career in food photography or are seeking to improve your existing food styling or storytelling skills, this course will arm you with the technical skills and industry knowledge you need to succeed.
'STYLE, SHOOT & TELL STORIES LIKE A PRO' will be both cobbled street strolling, food- and lifestyle shooting, prop-hunting, styling and editing sessions in a large, authentic 18th century apartment with beautiful high ceilings, parquet floors and woodwork, located in my all-time favorite nighborhood of Paris, St Germain des Près in the 6th arrondissement, situated on the left bank of the River Seine. Stepping out the front door of our lovely, light-filled workshop location, we will find ourselvers amidst Paris' most charming streets, lined with quaint shops, patisseries, bakeries, historic bistros, famed cafe and wine shops, making the neighborhood an absolute paradise for food lovers, prop-hunters, photographers and coffee drinkers like us.(
WHEN:
September 22nd-25st, 2018
The workshop begins on the 22nd at 4 PM and ends on the 25th at 5 PM.

WHAT:
4 days of guided facilitation, hands-on training and in-depth instructions on food-styling, food- and lifestyle photography, and storytelling combined with prophunting, exploration and delicious meals in Paris.

WHO:
People from all walks of life is welcome.
Space is limited to 5-6 attendees.

HOW TO GET THERE:
The nearest major airport is Orly, about 30 minutes to the center of Paris by taxi. Charles de Gaulle airport is located about 1 hour and 15 minutes drive by taxi from Paris. You can also jump on a bus or a train.

PRICE:
€1.797
*The workshop fee can be paid in two installments. To only pay a 50% deposit now, use the code 2INSTALLMENTS at check out. Feel free to pay in full if you would like. Otherwise the second payment will be due on August 22nd.
Prices listed are per person

EQUIPMENT NEEDED:
Please bring the camera you normally shoot with (your DSLR or mirrorless)
or/and your iPhone.
ACCOMMODATION:
This workshop is without accommodation, since many participants wish to come either a few days before or stay a a few days after the workshop, and like to stay at an airbnb or a hotel, they've stayed at before. However, I would be more than happy to share the names of some of my own favorite hotels with you in the area: Hôtel du Lys, Hôtel Odeon Saint Germain, Hôtel des 2 Continents, Hôtel de L'Univers de Paris, Hôtel Odeon.
If you would like to have recommendations for less or more expensive hotels, just let me know, and I'll send you some.

INCLUDED:
3 traditional French breakfasts in the apartment or at my favorite cafées

2 lunches - either in the workshop apartment or cafées/bistros

1 combined lunch + guided food & history walk in Montmartre

1 welcome dinner at an authentic Parisian bistro

A class about how to master the manual mode on your camera

Multiple in-depth instructions & hands-on classes in how to find your signature style, manipulate light, compose a photo, work with props style and shoot both food and lifestyle shots

Visit to the loveliest traditional Parisian marché (market)

1 cooking class filled with useful tips and tricks

Visits to local boulangeries, patisseries, crêperies and chocolatiers

Macarons, chocolate, crêpes, bread, cheese, and wine tastings

Insider's prop tour

Transportation within Paris for all group excursions

The unique opportunity to meet and connect with a group of like-minded creatives from all over the world

Goodie bag with lovely surprises
NOT INCLUDED:

Accommodation during the workshop

our transportation costs (flight/train ticket) to and from the workshop destination, taxes & baggage fees

Travel insurance (highly recommended)

Meals/items/activities bought when you're not with the group
WELCOME LETTER & SECRET FACEBOOK GROUP
A couple of weeks prior to the workshop you will receive a welcome letter with more practival information, a list of participants and a detailed itinerary. You wil also be
invited to become a member of a private 'STYLE, SHOOT & TELL STORIES LIKE A PRO' Facebook group. Here you can communicate e.g. about sharing taxis from airport and other practicalities, post questions, ask for advice, share insights and personal goals, and I can upload the links, recommendations, tips and tricks, I share with you during the classes. In this group we'll also share insider's tips and tricks with you in terms of where to stay, eat and shop if you plan to stay longer in Paris.
meet & greet + camera basics + welcome dinner
We'll meet up in the workshop apartment in St Germain des Près at 4 PM for a warm welcome and a presentation of each other and the program over freshly brewed coffee, tea and delicate French pastries. I will walk you through how to master the manual mode on your camera and teach you how to expertly dial in aperture, shutter speed, and ISO. Afterwards we'll head out for a stroll in the neighborhood and bring our shooting skills into practice, before we sit down at one of the oldest bistros in Paris and celebrate our first evening together over a classical French dinner.
Each day we'll begin at 10 AM and end at 6 PM (apart from the first night where we'll end at around 9 PM and the last, where we'll round up at 5PM). Throughout the workshop you will learn new ways to style and shoot evocative magazine-worthy food and lifestyle photos, capture the soul of a city through your lens, tell captivating food & travel stories, and develop new skills to grow as a photographer. High-quality food & lifestyle photography is tricky, and I have created this workshop to share all my very best tips and tricks with you on how to create stellar imagery, and load you with knowledge from the photographic industry.
During the workshop you will also learn how to master the fundamentals of food styling, the principles of composition, how to use the right props to evoke the ambience you aim for, how to tell plated stories, create beautiful tablescapes, manipulate light, and make conscious decisions about what you put in the frame and what you leave out.
breakfast like the locals + food & photography tour
Each morning we'll have breakfast like the locals do at some of the most charming cafées, and enjoy lovely lunches in the apartment or at typical French bistros and cafées. I will also invite you on a combined lunch and 'Food & history tour' in Montmartre where we with camera in hand will explore the charming streets of this pitoresque area and taste some of the best French specialties such as macarons, cheese, cold cuts, a glass of wine and other sweet treats.
prop-hunting and market stroll
And finally, we will of course swing by a few of my eye-rollingly gorgeous must-visit-prop-stores in Paris, and visit a beautiful traditional Parisian marché (market) to shop the fresh and vibrant ingredients for our styling & shooting lessons.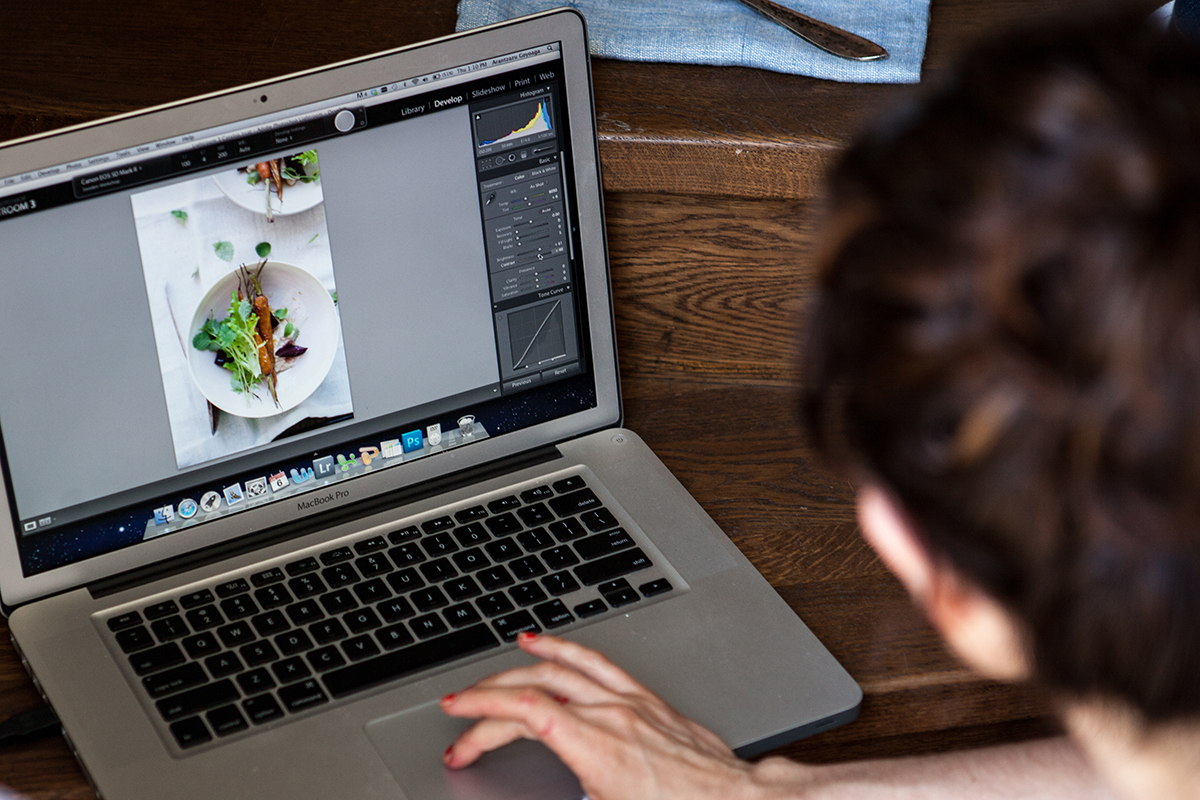 You will need to bring your camera - whatever you normally shoot food with is perfect. Some guests come with nothing but iPhones, others come with film cameras, yet others with point & shoots, and the majority with DSLRs. Bring also your tripod if you want to use your own and have space enough in your suitcase - if not you are welcome to borrow mine. It's important that you have a beginning knowledge of how to use your camera.
All levels and breeds of creatives are warmly welcome. It is our belief, that there's almost no field that can't benefit from a working knowledge of creativity, storytelling, and photography. Participants from all walks of life are welcome - and even though the title of my workshop and retreat enterprise is Sisterhood Retreats, it doesn't mean that the workshops are not open to men. Men are absolutely welcome!
"I'm speechless AND so thankful… It was wonderful, eye-opening THREE days for me. You are such a genuine and colorful person, and IT WAS SO generous OF YOU to share your experiences and skill sets with us."
I think that it was really good that I participated in this workshop to open up perspectives and possibilities in this time of transition. Your advice and recommendations are precious to me - they filled me with so much energy. I felt stuck when I came, but now I have found a light that gives me a sense of direction - thanks to your guidance. I know organizing workshops is a really hard thing, but you never looked tired and I respect you a lot. Again, thank you so much. I'm looking forward to our next gatherings. With lots of appreciation.
MINA USUI, JAPAN
"I
SIGNED UP FOR SIF'S WORKSHOP HOPING TO HONE MY VISUAL STORYTELLING TECHNIQUES...BUT I LEFT WITH SO MUCH MORE."
For me, the main benefits came when Sif shared the inside secrets of her incredible personal success story and from receiving invaluable individual feedback which she happily provided beyond workshop hours and even upon my return home! Importantly, she makes you feel comfortable instantly, no matter your photographic experience. Her down-to-earth approach helped participants to immediately gel well together which made the workshop fun.
Sif's style of communicating her visual storytelling knowledge is unique and made me feel truly connected and inspired. I returned home equipped with more tools and fully motivated to take action on my dreams.
I can't speak highly enough of Sif's workshops.
IVAN EBEJER, MALTA
"These days have been just magical! Thank you so much."
"I am so so looking forward to being surrounded by a this creativity and life once more. And have the chance to talk with you. There is something really special about the atmosphere you create during these retreats and they give fire to all ideas."
"AFTER SPENDING JUST A FEW DAYS TOGETHER AT A SCANDINAVIAN CHRISTMAS TALE RETREAT, A VERY SPECIAL BOND WAS CREATED BETWEEN EVERYONE IN OUR LOVELY GROUP."
It was such an honor to be a part of this creative bunch, made extra special by our lovely leader and teacher Sif. Her passion and ability to inspire, her big heart and kind words, her empathy and unlimited generosity are so precious and inspiring that we were all in awe. I came back home with a full heart and lots of new friends. It was unforgettable! Thank you Sif for bringing us all together and sharing your hearts and wisdom!"
KARMEN KODA, PARIS
"I have been full of peace and happiness ever since."
Thank you for an amazing retreat and learning experience.

LOUISE GRANHOF JUHL, DENMARK
"I strongly recommend joining Sif Orellana in any upcoming retreat. She shares her talent, but, more importantly, her wisdom! "
You might not know but you cannot really live happily without it!
"I AM STILL IN SOME KIND OF EUPHORIA AFTER MY RETREAT WITH SIF ORELLANA."
Thank you so much for being the most inspiring, caring and warm person I have met in a long time, Sif. I will always be grateful for this retreat.
NETTAN DAHLQUIST. NORWAY
Due to logistics, the people involved, the workshop is a non-refundable. So please register only if you know you can attend. However, we would be very happy to transfer your spot to someone else should you be unable to make it and know someone who will take your spot. In the unlikely case that we have to cancel the workshop, you would receive a complete refund of the workshop fee. We encourage you to have a valid travel insurance before embarking on the trip. More info about our terms and conditions can be found here.